About the Retirement Village Expos
Devoted exclusively to retirement villages and over 55's resorts, these expos provide visitors with a wonderful opportunity to ask questions and gather information about many different retirement villages and resorts in a short period of time.
Whether you are a baby boomer exploring the idea of Over 55's Resort Living, or a senior looking at retirement villages with independent living, assisted or specialist care, or looking for a loved one, these expos are not to be missed.
Days and even weeks of research can be accomplished in just a few hours by attending one of the Retirement Village Expos — all with free admission.
The Retirement Village Expos are designed to save you time by putting you in touch with various villages and resorts across Australia in a friendly obligation free evironment.
If you are planning your retirement in Australia then these expos are well worth attending. This event will help you to dispel all of the old myths about retirement villages just being nursing homes and provide you with the right information that will help you to make the transition into a wonderful retirement lifestyle.
This year is our 20th anniversary!
The very first Retirement Village Expo was held in 1997 at the Epping Club in Sydney. The response from our visitors at the event was so positive with many of our visitors telling us how grateful they were to be given the opportunity to meet with so many different retirement villages without fear of any obligation.
Since then, the retirement village expos have grown and are held annually in many different locations. Our Retirement Village Expos have now become so popular that we host them in multiple locations across Sydney as well as Brisbane, Newcastle, Melbourne, Adelaide and Canberra.
Despite it being many years since our very first event, the feedback that we receive from visitors to each of our events today is still the same with people expressing how wonderful these events are for them and how they are such a worthwhile and easy going experience. If you are considering the move to a retirement village or resort, don't miss this wonderful opportunity to see what is available, it could change your life!
For further information on any of our events, please contact us at mail@dorsal.com.au or alternatively on 0412 233 742.
Discover the joy of retirement living!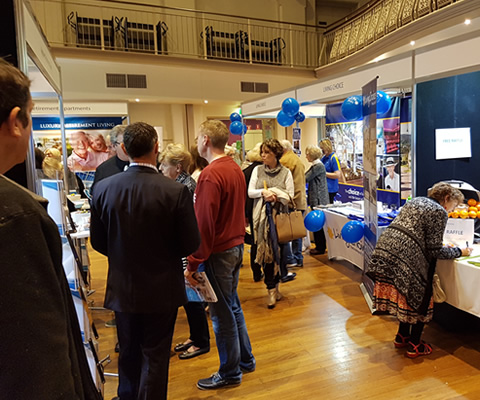 Don't miss this great opportunity
Incorporating resort living for the over 55's